Jumia Black Friday 2018 is on the way and I can already hear folks chanting:
"That thing na scam abeg!"
Scam ke?
Are you in that same ship?
Look:
During the Jumia Black Friday sales, you can get products for more than half the price the stuff is being originally sold for and this is not the first time something like this is happening.
There was a Black Friday sale in 2015 and I picked up good deals: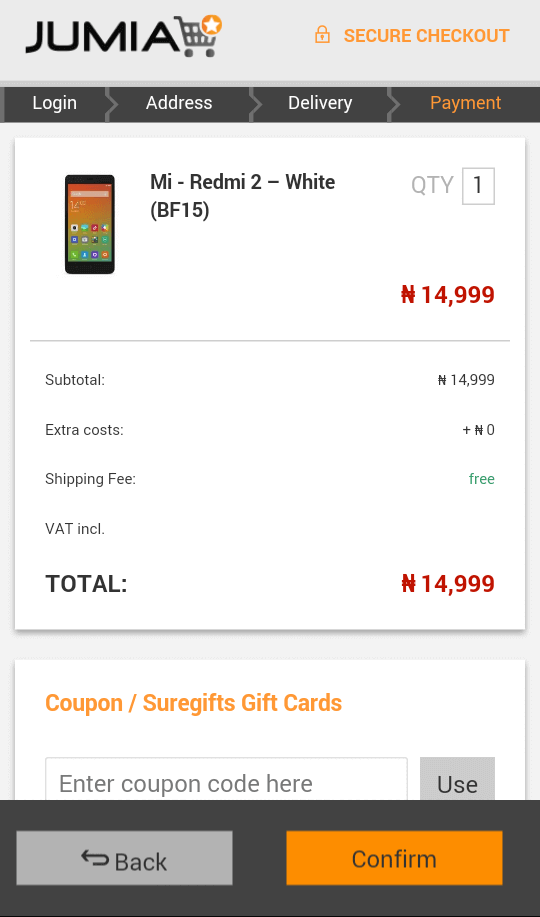 The Redmi 2 originally sold for ₦25k but as seen above, I go it for ₦10k off the normal selling price.
Although folks consider me lucky, I don't think it was luck. It's pure common sense. I also scored some more deals last year – that was luck too?
Stick with me, let me show you common mistakes peeps make and how you can escape them.
Jumia Black Friday 2018: Common Misconceptions & Errors

No need to waste time, here they are:
1. You Think It's a Scam
First things first, get this BullS*** off your mind. Who told you it is?
Look, I got a device last year, some of my friends who were also aware did too.
Wait, you still need more proof?
See this:

Satisfied?
What! You still are not?
Ok, go through this Nairaland thread and focus on the positive feedbacks.
2. You Do Not Understand The Whole Concept
Aaayaa. 😥
Are you like my friend I talked about last year who thought Black Friday was a day set aside to mourn something/someone?
Chai!
Here's how Wikipedia explains it:
Black Friday is the day following Thanksgiving Day in the United States (the fourth Thursday of November). Since 1932, it has been regarded as the beginning of the Christmas shopping season in the U.S., and most major retailers open very early (and more recently during overnight hours) and offer promotional sales.
"Big English."
"Grammar."
"We are not in the U.S."
Bros/Babe Calm down, let me explain.
Yep, we are not in the U.S., but I'm telling you, this thing is real.
The first ever black Friday sale happened in November of 2013 when eCommerce was still in its infancy in Nigeria. Thanks to online stores, a brand new PlayStation 4 which on a very good day costs about 95k was sold for 25k! – Here's proof (kinda).
So simply put, the only day you can get jaw-dropping discounts on any product (not every, but most), is on Black Friday.
You get it now right?
Cool.
3. You Don't Know the Date of the Event
Jumia Black Friday this, Jumia Black Friday that. Which Friday exactly?
Lol.
For last year, black Friday was November 25th. This year's "official" date is Friday, November 24th. However, Jumia is planning to do something crazier this year:
See that?
31 freaking days of discounts!
Specifically, between November 13th and December 13th.
However, you shouldn't hold your breath as the major deals would go up close to the D-day (Nov. 24).
Wondering what will happen during the days leading up to the D-day? Well, these …
4. You Think ALL Products Would be Sold at 80% Discount
Bros/Baby no be so o.
Not ALL products will be featured in the "flash sales", but little discounts will be appended to most products.
For flash sales (50% – 80% off sales), featured products would be made known to you before the sale kicks off.
Pop your email address in here and get notified personally by me when flash sales go live.
5. You Don't Know the Time for Various Flash Sales
As you might have noticed, the flash sales are the headline of the whole Black Friday madness but these flash sales do not last the whole day! There are specific timings for each sale.
In essence, you should know the various timings for the various flash sales.
6. You Don't Know the Flash Sale Coupon Code
Ok, you know the time for the flash sale, oya, buy na!
At checkout, you will be required to input a coupon code so that the discount can be applied to the cart. To get these codes you need to be alert and following Jumia's social media pages.
The codes are normally released up to an hour before the flash sale begins.
7. You Think the Flash Sales Will Wait for You
Seriously?
There's a flash sale by 2 pm and you are trying to get the device by 2:15 pm?
For which country?
Look:
It's the internet and just like you, there are over a million people trying to get that same product. It might shock you to find out that there might only 30 of that device in stock for the flash sale and you are coming 15 minutes late.
Mtcheewww…
8. You Don't Have a Jumia Account Already
Imagine!
Is it the time that people are using to "add to cart" and "check out" you want to start creating your new Jumia account, wait for the verification code, verify and shop?
You must be joking.
Understand: To buy anything on the e-commerce store, you need to have a verified account with them. So if you don't already, head on to Jumia, open your customer account and verify it conveniently right now. (Here's a Link)
9. You Forgot to Login
After managing to add a product to your cart, it is now you're struggling to log in. God come catch you, you forget your password. 😛
Look:
Before the time of the flash sale, ensure you are properly logged in to the site to avoid "stories that touch".
If you read through the Nairaland thread, you must have come across users complaining of "the item was in my cart just now just now".
10. You Forgot to Fill Out Your Shipping Address
If you haven't already, just go and do it now that you have the time. Don't get caught up thinking about your street name spelling or worse; your postal code, when your mates are confirming their orders.
11. You are browsing with a slow connection.
Ah! This one hook me during the black Friday sales! I was just about confirming my order (on Konga) when something of this sort happened: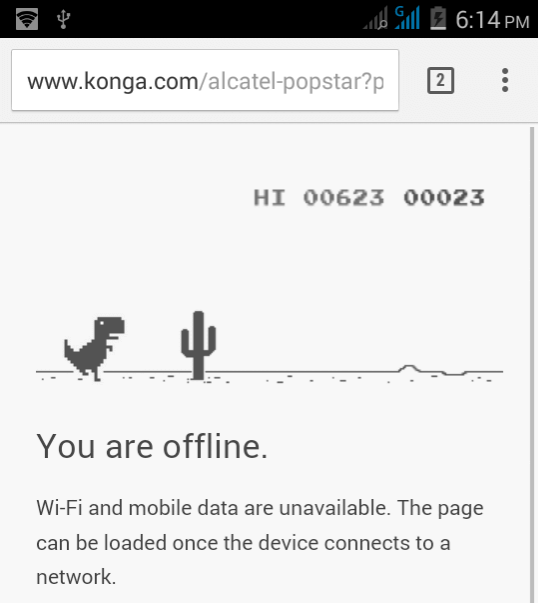 Trust me, I almost died.
I advise you enquire the mobile internet connection with superb speed in your locality and subscribe to it even if it's just for the five minutes you'll be making that order. – Here, see all the best data plans in Nigeria right now.
12. You Want to Buy the Whole Jumia!
Longer Throat! Chai. 😆
Word of caution:
In order not to waste your time, avoid trying to buy two (or more) products at the same time. It. Simply. Won't. Work.
You are restricted to just one product during the flash sales.
Mehn, the story don dey too long.
In summary,
Make sure you have a Jumia account already and have properly filled in the necessary details.
Be sure you are logged in before the flash sale kicks off.
Don't try to add two flash sale products to your cart at the same time.
Stay away from heartbreaking internet connections.
One Last Tip:
Look, not everybody will get the flash sales. If you are unlucky, don't just swerve off. Snoop around Jumia and you'll find some nice deals lying around (although they might not be up to "80% discount").
If you do not have the time for "snooping", enter your email addy down below and I'll personally send those deals straight to your mailbox.
Jumia Black Friday is not for everybody, but if you're tight on budget and looking to change your smartphone or get a new device for a loved one, it's definitely for you.
Pro Tip:
Install the Jumia Mobile App on your device for even faster access.
And oh, please don't be stingy, share this article with your loved one (it takes less than 30 seconds).
Got something to say?
click here
to leave a comment