Presently retailing between ₦19,000 and ₦25,000, the Tecno W2 wants to be the cheap smartphone that would win your heart over.
Take a quick moment to read through all the most important details about the Tecno W2 before drawing out your wallet.
Quick Details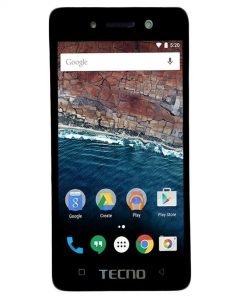 Network: 2G / 3G
Display: 4.5-inch touchscreen display (480p)
Software: Android version 6.0 (Marshmallow)
Processor: 1.3GHz Quad-core Processor
Memory: 1GB RAM / 8GB ROM
Cameras: Rear — 2 MP w/ flash // Front — 0.3MP w/ flash
Battery: 2500 mAh
Price: ₦19,000 – ₦25,000 (See the lowest price)
Tecno W2 Full Device Specifications Review
Now, let's go into detail about what the device actually has to offer you for that price.
Here's a quick a way to navigate through the article
Network & Software
The Tecno w2 is a dual SIM Android device which supports all 2G and 3G networks across the country.
You weren't expecting 4G LTE at such a price now, were you?
Anyways, thanks to the release year of this device, you get to be running on one of the most recent Android versions publicly available — Android Marshmallow and yes, the W2 is a Dual SIM smartphone.
In summary, here's what the network and software department on this device looks like:
2G: Yes
3G: Yes
4G: No
SIM: Dual SIM
Operating System: Android v6.0 (Marshmallow)
Would you be getting software updates?
Not likely. At the price the W2 is retailing for, no OTA update would roll out to the device.
Design & Display
With the display size of the Tecno W2 coming in at a modest 4.5 inches, the device would definitely feel small in your hand.
The exteriors of the device are made from plastic materials, and the display is a capacitive touchscreen with no protection in front, so, you might want to consider purchasing a screen guard or a tempered glass protector along with the device to avoid screen scratches.
For color options, you can get the W2 as either a black, gold or grey device. No matter the color you end up picking, you are still getting the same device.
Summarily, on the W2 you're going to be getting these for the display and build:
Dimensions: Height — 136mm // Width — 67.3mm // Thickness — 11.4mm
Weight: ??
Build: Plastic
Colors: Black, Gold, Grey
Display Size: 4.5 inches
Display Type: TFT Touch Display
Display Resolution: 480 x 854 pixels (217ppi)
Would the display be sharp?
You mean usable right?
Well, if you mean what I think you mean, then you need not fret, the display on the Tecno W2 would be sharp enough to get most of your job done.
Performance & Hardware
Powered by a quad-core MediaTek CPU, the W2 is equipped just fine to handle basic tasks you're willing to whim at it.
Please, do not try to turn this cute little puppy into a gaming rig, otherwise, you'd be greatly disappointed.
If on the other hand you are looking for a cheap machine to hand basic tasks like, making and receiving phone calls, listening to music and watching videos, browsing the internet, occasional visits to social media sites, connecting with your folks through WhatsApp, Telegram, messenger, [insert more chatting apps here], then the W2 would be your bunny.
Thanks to the 1GB of RAM that was bundled with this device, when you are running most of the tasks I outlined above, you'd encounter little to no problems switching between apps.
For storing your files and media, the Tecno W2 has 8GB of onboard storage.
Need way more than 8GB?
No problem.
You can extend the storage capacity of this device by throwing in a micro SD card.
The device supports card sizes of up to 32GB.
Summary:
Processor Name: MediatekProcessor
Type: 1.3GHz Quad-core CPU
GPU: ??
RAM: 1GB
Internal Memory: 8GB
SD Card Support: Yes — Up to 32GB
Cameras
Although not a champ in this department, the Tecno W2 still ships with camera lenses.
Yep! Not one, but two cameras — one in front and one at the back.
These could come in handy when you are looking to capture certain moments or documents for future reference sake.
Another important thing that should be noted is the fact that both cameras have LED flashlights which illuminate photos in low light conditions.
However, I must warn you though …
DONOT expect exceptional photos from these cameras.
Sure thing, pictures you take with the W2 would look presentable but immediately you zoom in, it is finished!
Front Camera: VGA — 0.3MP — with flash
Rear Camera: 2MP lens with flash
Battery
Thanks to the little amount of processing at the non-power hungry screen used on this device, the W2's battery would be more than capable of lasting you through the day.
Shipping with a removable 2500 mAh Lithium Ion battery, you need not worry about your battery running out on you mid way through the day — provided you fully charged the device in the morning.
Battery Capacity: 2500 mAh
Type: Li-ion
Fast Charging: No
Connectivity & Multimedia
All the important features you'd need in a smartphone in terms of connectivity, the W2 packs.
Want a good WiFi?
Present.
USB port to transfer files?
Present.
Strong Bluetooth?
Present.
GPS Navigation when lost?
Present.
See more "present" features:
Bluetooth: Yes
WiFi: Yes
GPS: Yes
USB: Yes — microUSB 2.0
Music Player: Yes
Video Player: Yes
FM Radio: Yes
Loudspeaker: Yes — Mono speakers
Headphone Jack: Yes
Other Features
Fingerprint Scanner: No.
Tecno W2 Price In Nigeria
You can buy the Tecno W2 right now in Nigeria for between ₦19,000 and ₦25,000 depending on the store you get it from (whether online — Jumia, Konga, Yudala, e.t.c — or Offline — SLOT, 3CHub, Microstation, e.t.c).
More Devices: