This article contains recent Tecno smartphones that can be purchased right here in Nigeria; their quick features and prices.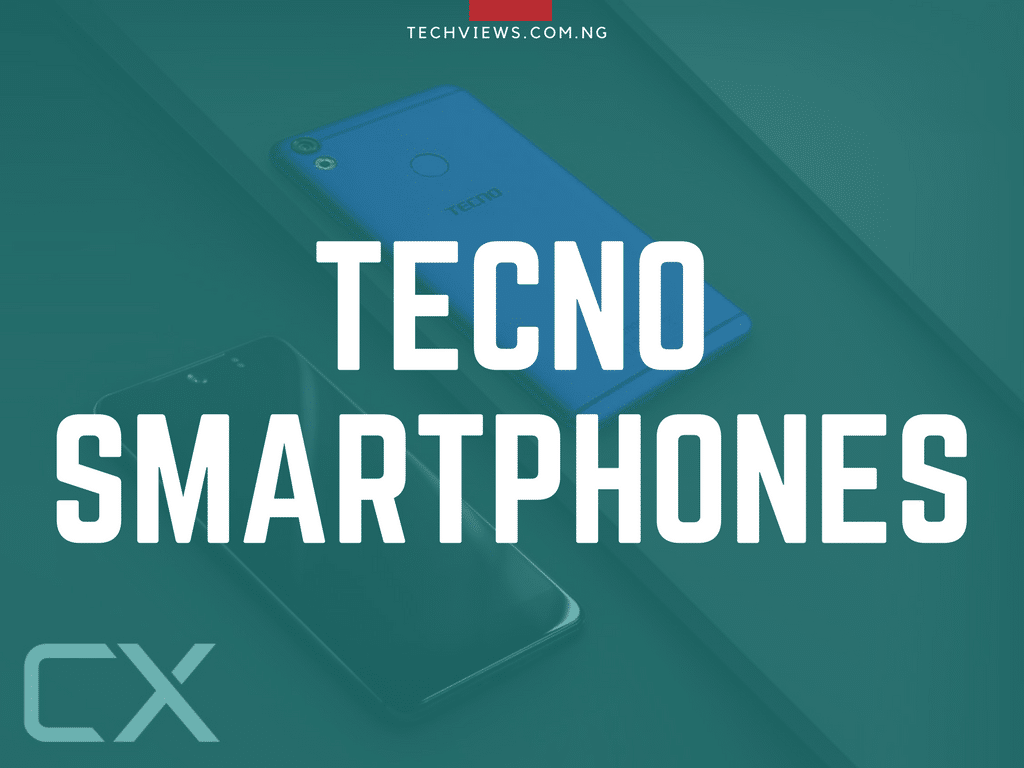 Always updated with the latest devices in the market, you can trust that you are seeing nothing but the newest release.
Prices listed below are based on the average market price of the device as at launch. You, however, can click on the "see lowest price" button to get today's price (and availability) of the device.
Enjoy.
Where To Buy Tecno Phones
You can buy Tecno Phones online in Nigeria from the following stores.
Latest Tecno Phones and Prices in Nigeria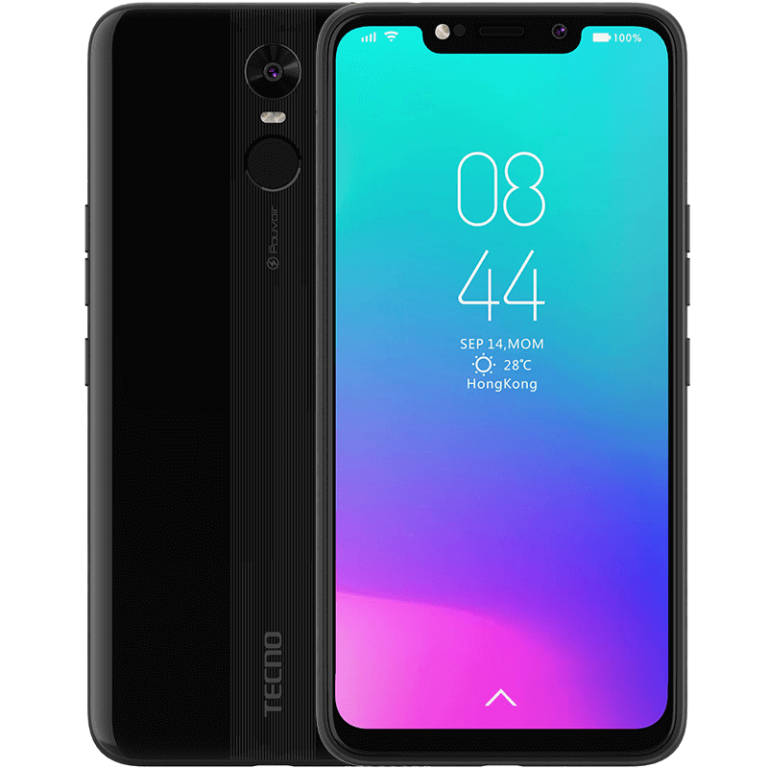 Quick Details
Network: 2G / 3G / 4G
Display: 6.2 inches, IPS LCD Touchscreen display — (720 x 1520 pixels)
Software: Android 8.1 Oreo + HiOS
Processor: 1.3GHz Quad-core CPU (MediaTek MT67399)
Memory: 2GB RAM | 32GB ROM
Cameras: Front — 13MP (f/2.0) | Rear — 13MP (f/2.2 Dual LED Flash)
Battery: 5000mAh
Price: Check today's price
Other Features: Fingerprint reader, Face Unlock, G-sensor, Ambient Light sensor, Proximity sensor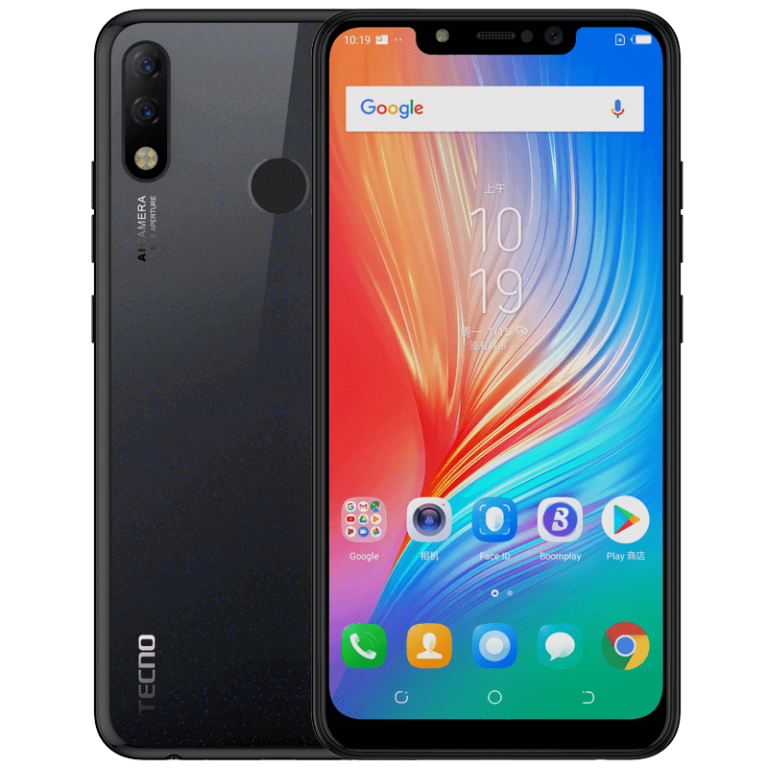 Quick Details
Network: 2G / 3G / 4G
Display: 6.2 inches, IPS LCD Touchscreen display — (720 x 1500 pixels)
Software: Android v9 (Pie)
Processor: 2.0 GHz Quad-core CPU (MediaTek MT6761 (Helio A22))
Memory: 2GB RAM | 32GB ROM
Cameras: Front — 8MP (w/ LED flash & Screen flash) | Rear — 13MP + 2MP (w/ ring flash)
Battery: 3500 mAh
Price: Check today's price
Other Features: Fingerprint reader, Face Unlock, "AI selfies", HiOS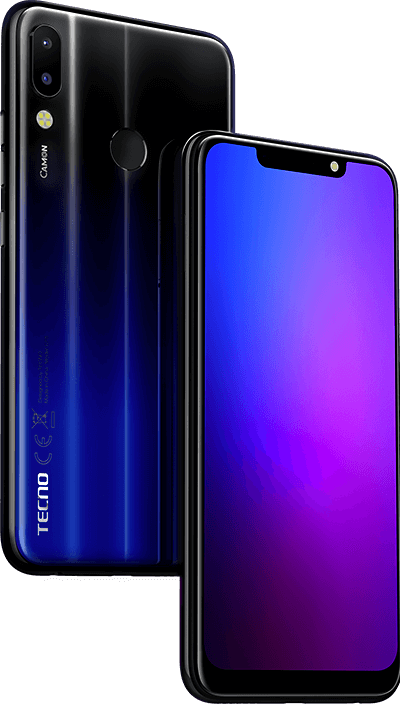 Quick Details
Network: 2G / 3G
Display: 6.2 inches, IPS LCD Touchscreen display — (1500 x 720 pixels)
Software: Android 8.1 Oreo
Processor: Octa-core 2.0 GHz (Mediatek MT6762 Helio P22)
Memory: 6GB RAM | 64GB ROM
Cameras: Front — 24 MP (f/2.0, LED Flash) | Rear — 16 MP (f/1.8) + 5 MP (f/2.4), Quad-LED Flash
Battery: 3750 mAh
Price: Check today's price
Other Features: Fingerprint reader, Infrared face recognition, accelerometer sensor, proximity sensor, compass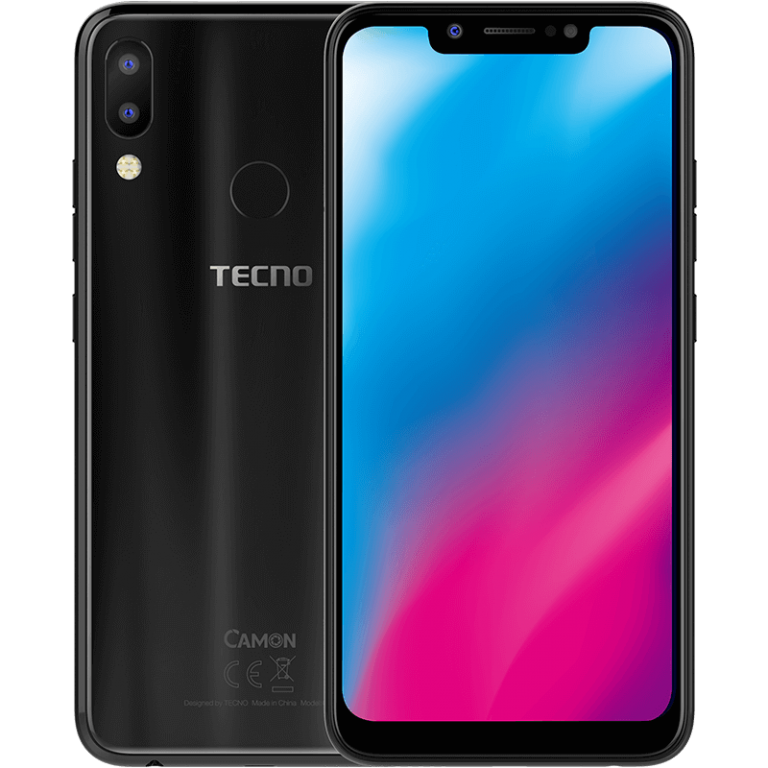 Quick Details
Network: 2G / 3G / 4G
Display: 6.2 inches, IPS LCD Touchscreen display — (1500 x 720 pixels)
Software: Android 8.1 Oreo + HiOS v4.1
Processor: 1.5GHz quad-core CPU (MediaTek MT6761)
Memory: 2GB/3GB RAM | 16GB/32GB ROM
Cameras: Front — 16MP | Rear — 13MP + 2MP (Quad LED flash)
Battery: 3750 mAh
Price: Check today's price
Other Features: Fingerprint reader, Infrared face recognition, accelerometer, proximity, compass sensors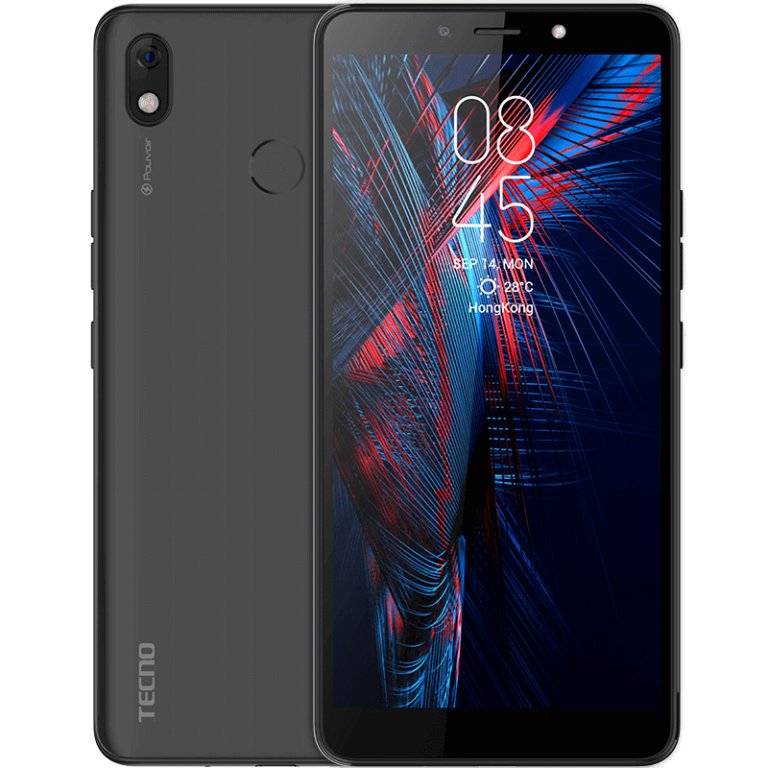 Quick Details
Network: 2G / 3G
Display: 6.0 inches, IPS LCD Touchscreen display — (1440 x 720 pixels)
Software: Android 8.1 Oreo (Go Edition)
Processor: 1.3GHz Quad-core CPU (MediaTek MT6580)
Memory: 1GB RAM | 16GB ROM
Cameras: Front — 8MP (f/2.0, LED flash) | Rear — 13MP (f/2.0, dual-LED Flash)
Battery: 5000mAh
Price: Check today's price
Other Features: Fingerprint reader, Accelerometer, Proximity and Light Sensors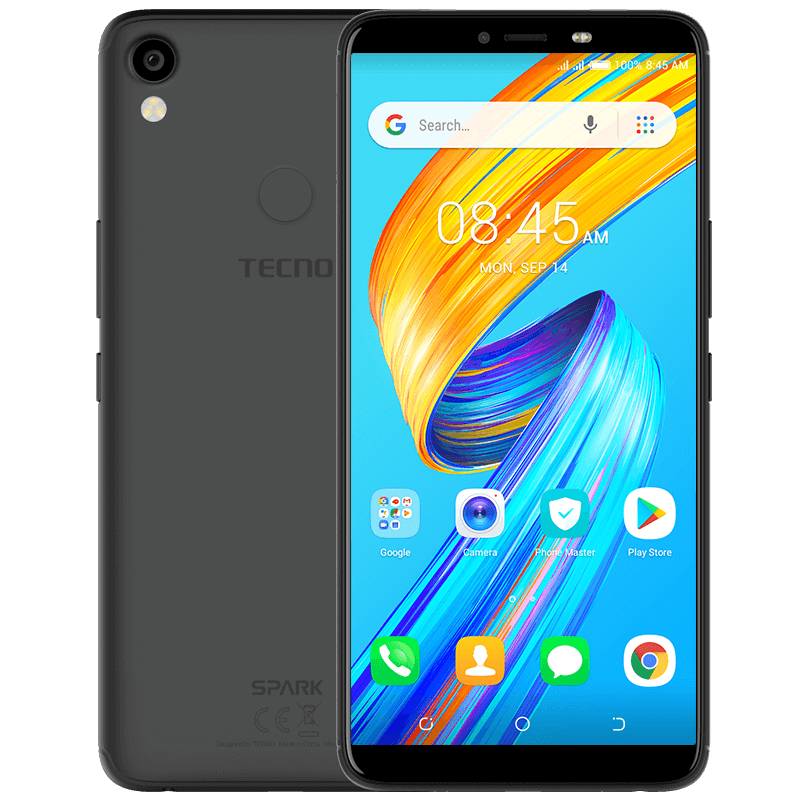 Quick Details
Network: 2G / 3G
Display: 6.0 inches, IPS LCD Touchscreen display — (720 x 1440 pixels)
Software: Android v8.1 (Oreo Go)
Processor: 1.3 GHz Quad-core CPU (MediaTek MT6580)
Memory: 1GB / 2GB RAM | 16GB ROM
Cameras: Front — 8 MP (dual LED flash) | Rear — 13 MP (Ring LED flash, autofocus)
Battery: 3500 mAh
Price: Check today's price
Other Features: Android Go, Fingerprint Reader, Face Unlock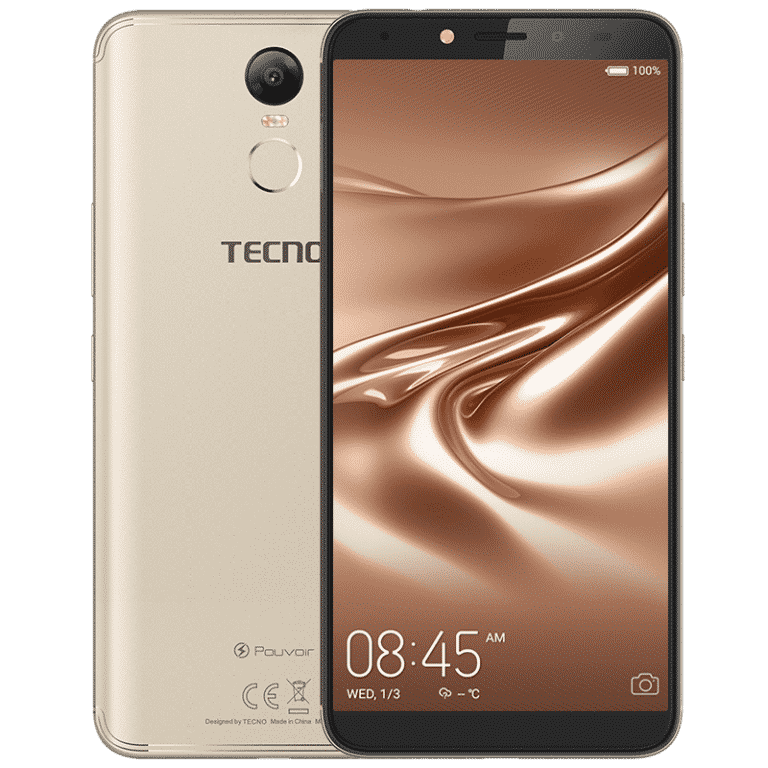 Quick Details
Network: 2G / 3G / 4G
Display: 6.0 inches, IPS LCD Touchscreen display — (720 x 1440 pixels)
Software: Android v8.1 (Oreo)
Processor: 1.3 GHz Quad-core CPU (MediaTek)
Memory: 2GB RAM | 16GB ROM
Cameras: Front — 8 MP (with flash) | Rear — 13 MP (autofocus, dual-tone dual LED flash, 720p @ 30fps video)
Battery: 5000mAh
Price: Check today's price
Other Features: Face Unlock Feature, Fingerprint Reader, HiOS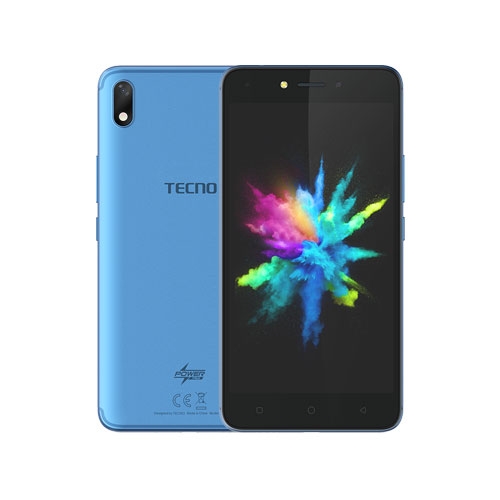 Quick Details
Network: 2G / 3G
Display: 5.5 inches, IPS LCD Touchscreen display — (720 x 1280 pixels)
Software: Android v8.1 (Oreo)
Processor: 1.3 GHz Quad-core CPU (MediaTek)
Memory: 1GB RAM | 16GB ROM
Cameras: Front — 5 MP (with flash) | Rear — 8MP (autofocus, LED flash, 720p video @ 30fps)
Battery: 5000mAh
Price: Check today's price
Other Features: HiOS, OTG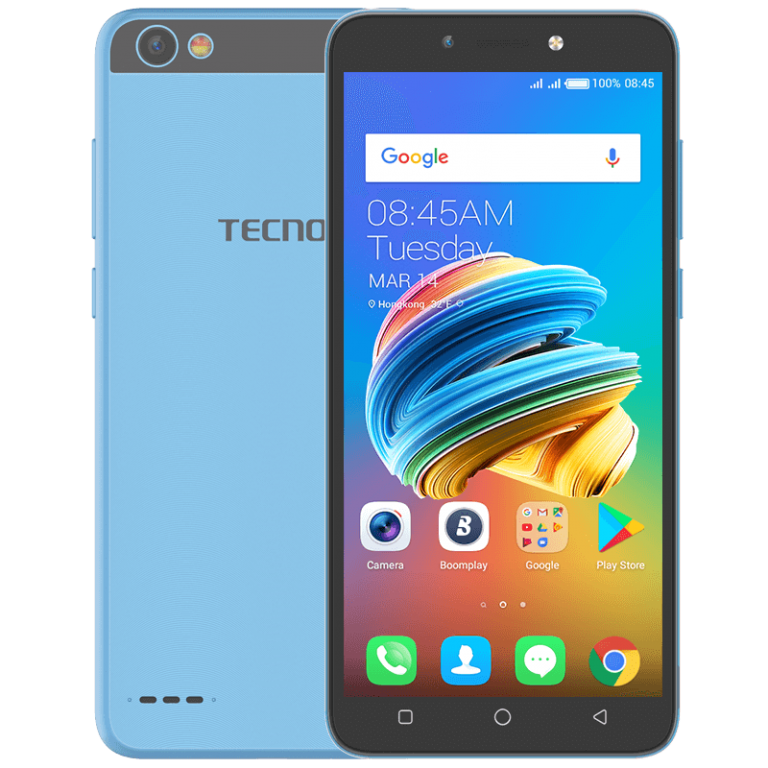 Quick Details
Network: 2G / 3G
Display: 5.5 inches, IPS LCD Touchscreen display — (480 x 960 pixels)
Software: Android version 7.0 (Nougat)
Processor: 1.3 GHz Quad-core CPU (-)
Memory: 1GB RAM | 8GB ROM
Cameras: Front — 5 MP (flash) | Rear — 5 MP (with dual flash)
Battery: 2400 mAh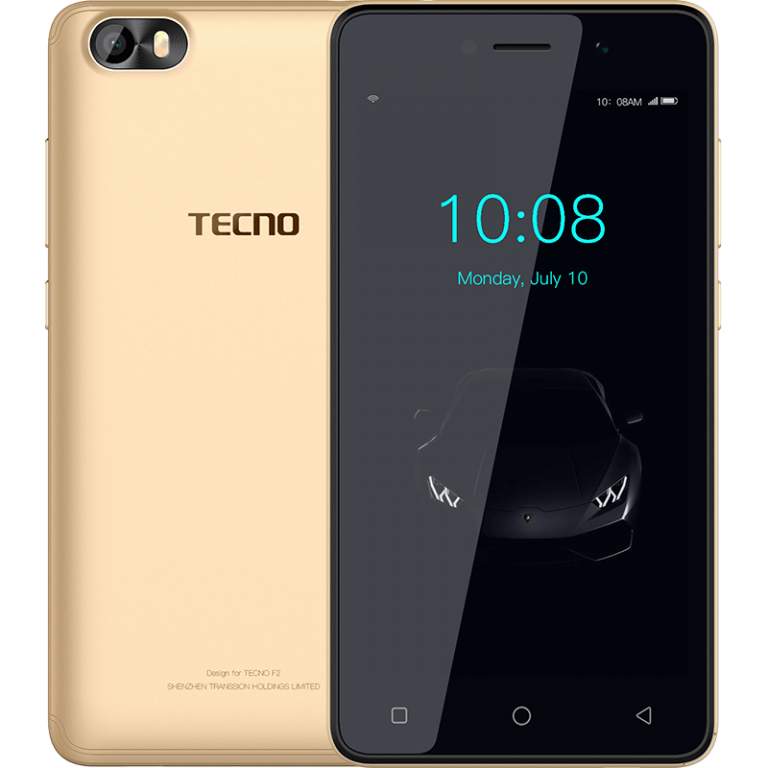 Quick Details
Network: 2G / 3G
Display: 5 inches, IPS LCD Touchscreen display — (480 x 854 pixels)
Software: Android version 7.0 (Nougat)
Processor: 1.3 GHz Quad-core CPU (-)
Memory: 1GB RAM | 8GB ROM
Cameras: Front — 2 MP (flash) | Rear — 5 MP (with dual flash)
Battery: 2000 mAh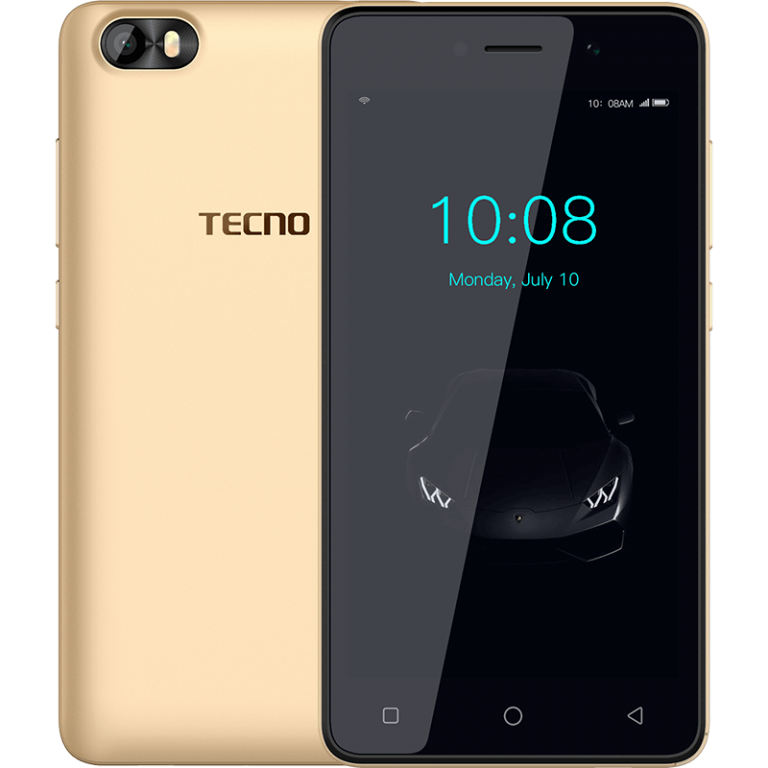 Quick Details
Network: 2G / 3G
Display: 5 inches, IPS LCD Touchscreen display — (480 x 854 pixels)
Software: Android version 8.0 (Oreo Go Edition )
Processor: 1.3 GHz Quad-core CPU (-)
Memory: 512MB RAM | 8GB ROM
Cameras: Front — 2 MP (flash) | Rear — 5 MP (with dual flash)
Battery: 2000 mAh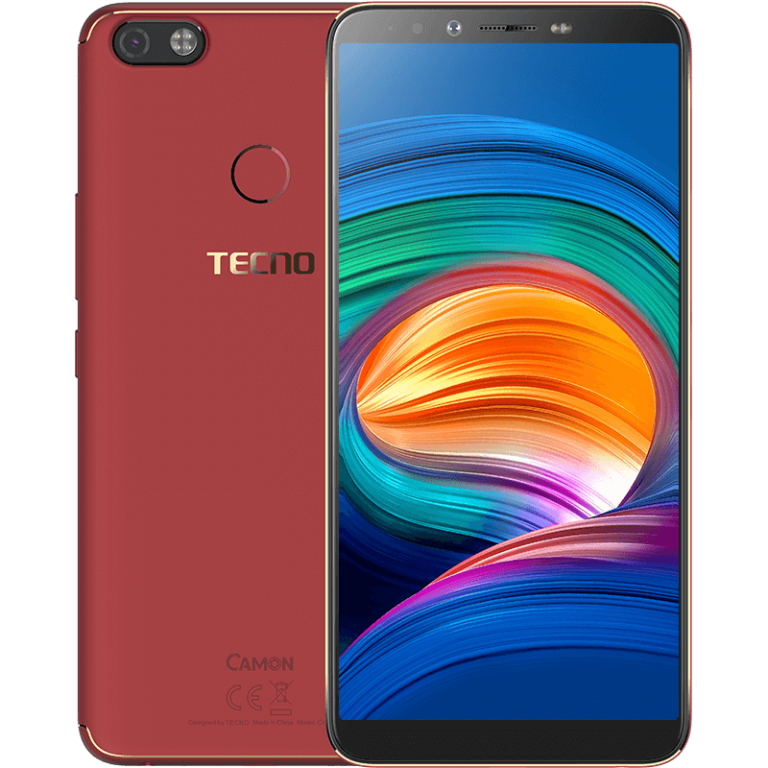 Quick Details
Network: 2G / 3G / 4G
Display: 6 inches, IPS LCD Touchscreen display — (1080 x 2160 pixels)
Software: Android version 8.1 (Oreo)
Processor: 2.0 GHz Octa-core CPU (-)
Memory: 4GB RAM | 64GB ROM
Cameras: Front — 24 MP (dual-LED flash) | Rear — 16 MP (quad-LED flash)
Battery: 3750 mAh
Price: Check today's price
Other Features: Tecno HiOS, Fingerprint Reader, Face Unlock Feature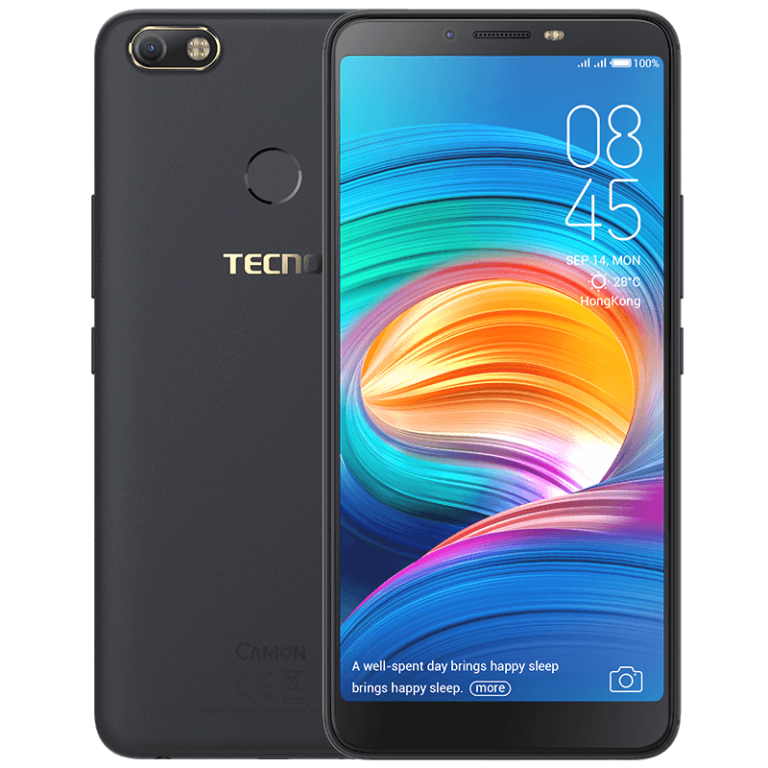 Quick Details
Network: 2G / 3G / 4G
Display: 6 inches, IPS LCD Touchscreen display — (720 x 1440 pixels)
Software: Android version 8.1 (Oreo)
Processor: 2.0 GHz Octa-core CPU (-)
Memory: 3GB RAM | 16/32GB ROM
Cameras: Front — 20 MP (dual-LED flash) | Rear — 16 MP (quad-LED flash)
Battery: 3750 mAh
Price: Check today's price
Other Features: Tecno HiOS, FIngerprint Reader, Face Unlock Feature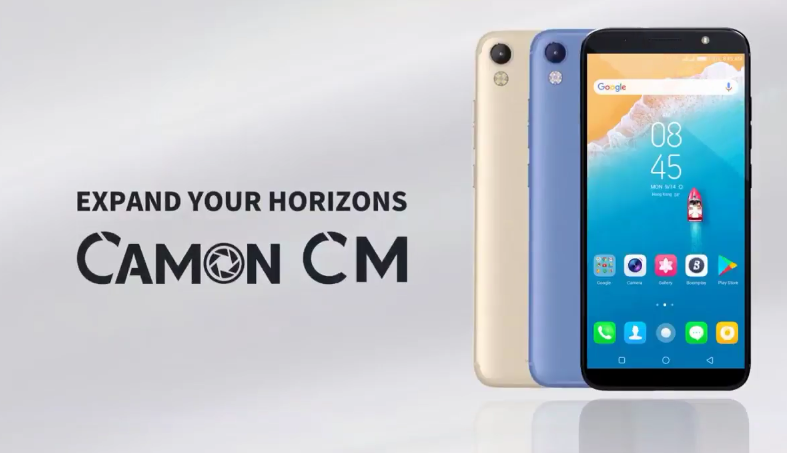 Quick Details
Network: 2G / 3G / 4G
Display: 5.7 inches, IPS LCD Touchscreen display — (720 x 1440 pixels)
Software: Android v7.0 (Nougat)
Processor: 1.4GHz Quad-core CPU (MediaTek MT6737)
Memory: 2GB RAM | 16GB ROM
Cameras: Front — 13 MP (f/2.0, LED flash, Screen flash) | Rear — 13 MP (f/2.0, Quad-LED flash, Autofocus, HDR)
Battery: 3000 mAh
Price: Check today's price
Other Features: Gorilla Glass protection, Fingerprint Reader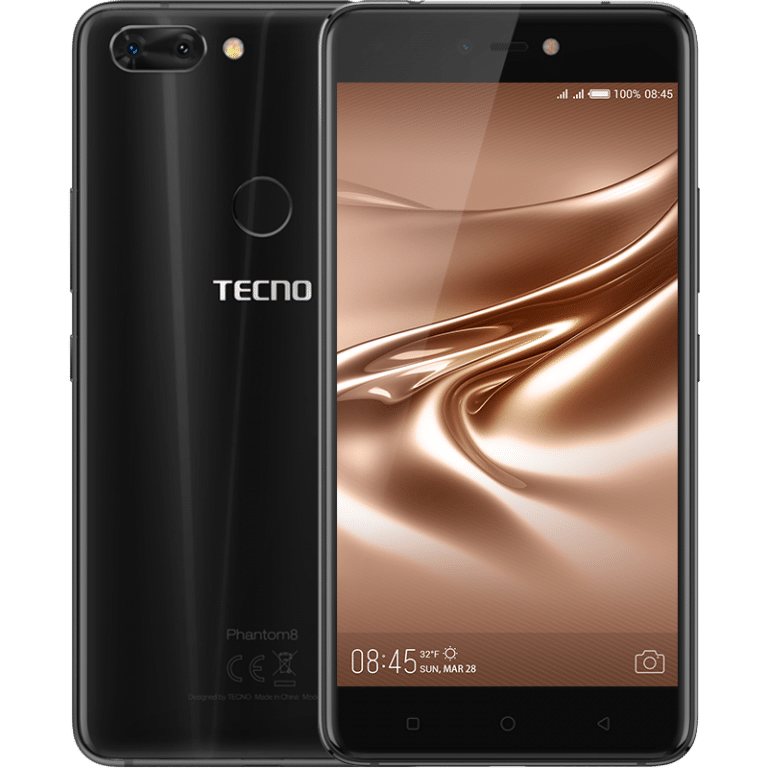 Quick Details
Network: 2G / 3G / 4G
Display: 5.7 inches, IPS LCD Touchscreen display — (1920 x 1080 pixels)
Software: Android v7.0 (Nougat)
Processor: 2.6 GHz Octa-core CPU (MediaTek MT6757CD — Helio P25)
Memory: 6GB RAM | 64GB ROM
Cameras: Front — 20-megapixel (f/2.0, dual flash) | Rear — Dual camera setup (12 MP wide angle + 13 MP telephoto, 10x digital Zoom, LED flash, autofocus, 1080p@30fps video
Battery: 3500 mAh
Price: Check today's price
Other Features: HiOS, Fingerprint reader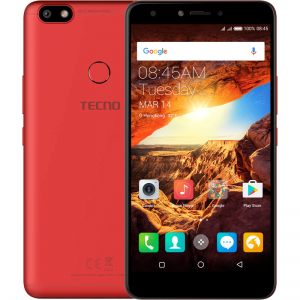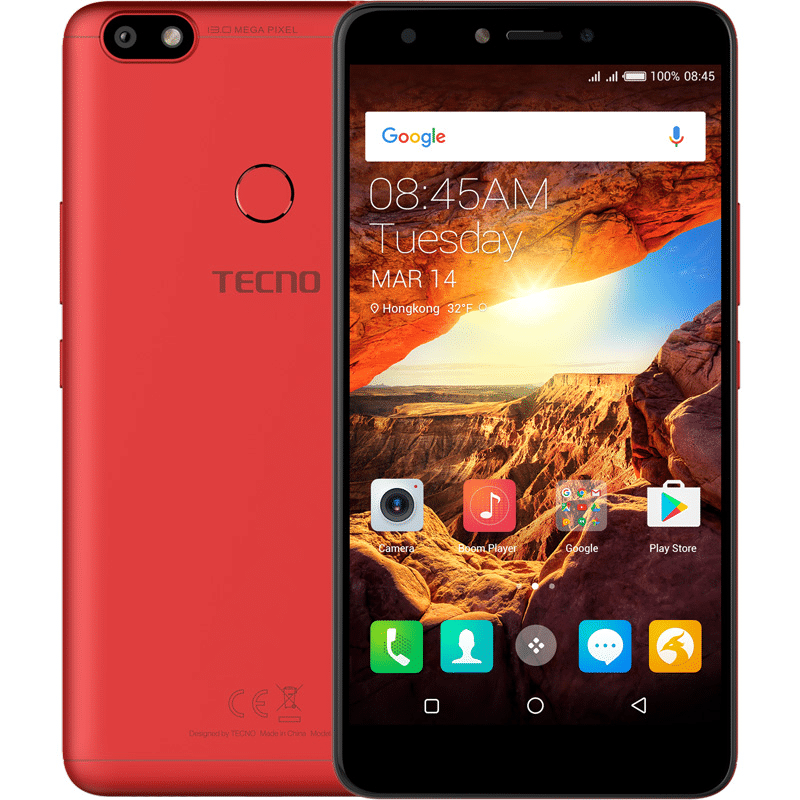 Quick Details
Network: 2G / 3G / 4G
Display: 6.0 Inches, IPS LCD Touchscreen display — (720 x 1280 px)
Software: Android v7.0 (Nougat)
Processor: 1.5 GHz Octa-core CPU
Memory: 2GB RAM | 16GB ROM
Cameras: Front — 5 MP (LED flash) | Rear — 13 MP (autofocus, LED flash)
Battery: 3400 mAh
Price: Check Today's Price
Other Features: Fingerprint Sensor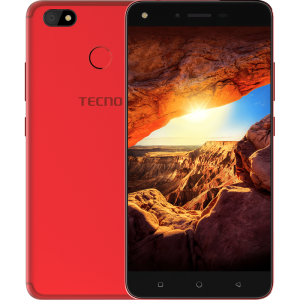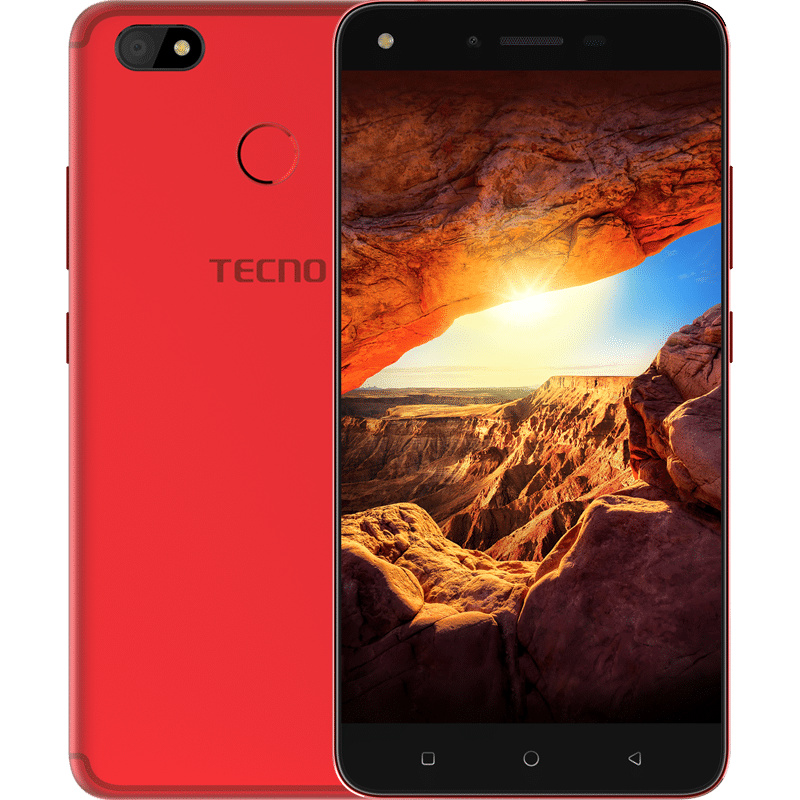 Quick Details
Network: 2G / 3G
Display: 5.5 Inches, IPS LCD Touchscreen display — (720 x 1280 px)
Software: Android v7.0 (Nougat)
Processor: 1.3 GHz Octa-core CPU
Memory: 1/2GB RAM | 16GB ROM
Cameras: Front — 5 MP (LED flash) | Rear — 13 MP (autofocus, LED flash)
Battery: 3000 mAh
Price: Check Today's Price
Other Features: Fingerprint Sensor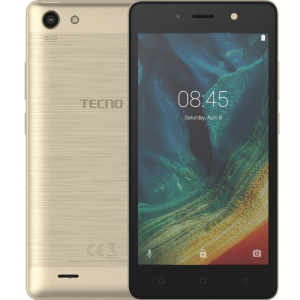 Quick Details
Network: 2G / 3G
Display: 5.0 Inches, IPS LCD Touchscreen display — (720 x 1280 px)
Software: Android v7.0 (Nougat)
Processor: 1.3 GHz Quad-core CPU
Memory: 1GB RAM | 8GB ROM
Cameras: Front — 5 MP (LED flash) | Rear — 5 MP (LED flash)
Battery: 5000 mAh
Price: Check Today's Price
Other Features: –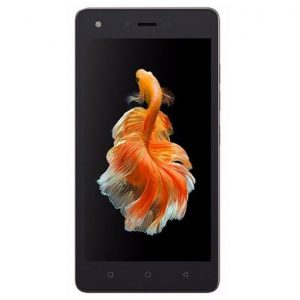 Quick Details
Network: 2G / 3G
Display: 5.0 Inches, FWVGA Touchscreen display — (480 x 854 px)
Software: Android v7.0 (Nougat)
Processor: 1.3 GHz Quad-core CPU
Memory: 1GB RAM | 8GB ROM
Cameras: Front — 5 MP (LED flash) | Rear — 5 MP (LED flash)
Battery: 2500 mAh
Price: Check Today's Price
Other Features: –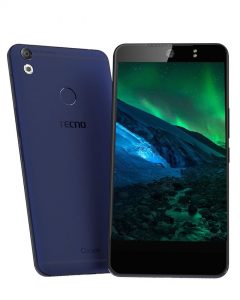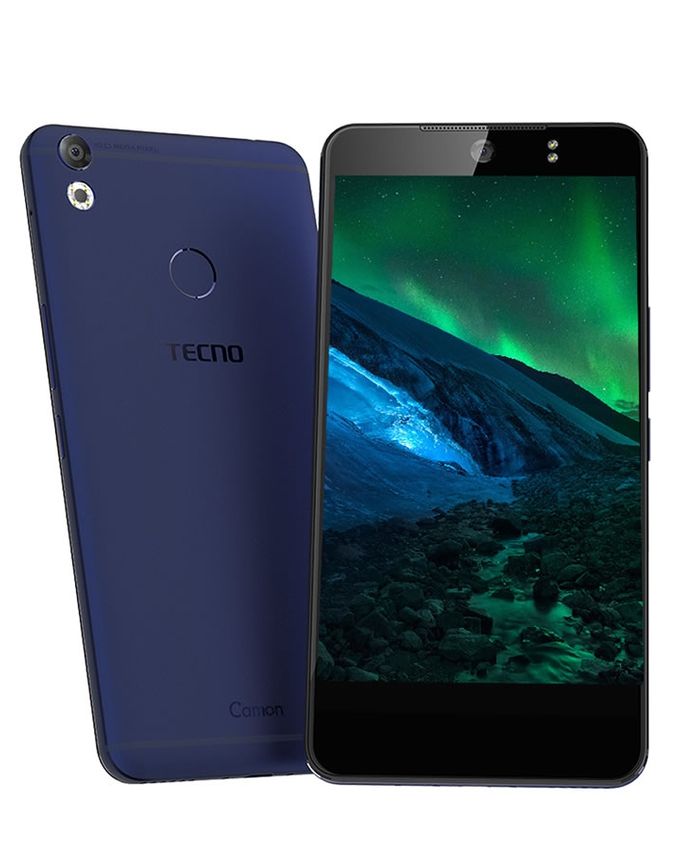 Quick Details
Network: 2G / 3G / 4G
Display: 5.5 inches, IPS LCD Touchscreen display — (1080 x 1920 px)
Software: Android v7.0 (Nougat)
Processor: 1.5 GHz Octa-core CPU
Memory: 2GB RAM | 16GB ROM
Cameras: Front — 16 MP (dual-LED flash) | Rear — 16 MP (dual-LED flash, autofocus)
Battery: 3200 mAh
Price: Check Today's Price
Other Features: Fingerprint Sensor
More Brand Phones